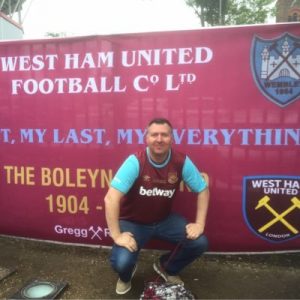 So here are the answers to yesterday's West Ham quiz set by Nigel Kahn.
1. West Hams highest ever official league attendance was against…………… Everton on March 2019 59,998 (1 point)
2. Lucas Fabianski is the reigning Hammer of the year, so, name the other goalkeepers to have won the award.  Rob Green, Shaka Hislop, Ludek Miklosko, Phil Parkes & Lawrie Leslie (5 points)
3. West Ham United are one of only eight clubs in existence never to have fallen below the second tier of English football, name the other 7. Arsenal, Chelsea, Manchester United, Everton, Liverpool, Newcastle United and Tottenham Hotspur.  (7 points)
4. Against which current Premier League team, have West Ham won the most Premier League points against…Southampton (61 out of a possible 108)  (1 point)
5. Who scored West Hams 1st hat trick in the Premier League… Tony Cottee 17/12/1994 v Man City. (1 point)
6. Who Are the Three players that hold the record mount of red cards received while playing for West Ham.  Mark Noble, Julien Dicks, Steve Lomas. (3 points)
7. Trevor brooking holds the record for winning the most hammer of the Year Awards (5), but name the 3 players that hold the record jointly for the Runner up award …. Bobby Moore, Billy Bonds Tony Cottee. (3 points)
8.Name the eight father and sons to have made first-team appearances for West Ham..
Jim Barrett Snr & Jnr, Bill Lansdowne and Billy Lansdowne, Ken Brown & Kenny Brown, Frank Lampard Snr & Jnr, Steve Potts Dan Potts, John Moncur, George Moncur, Robert lee Elliot Lee, Alvin Martin David Martin. (8 points)
9. We all know Billy Bonds holds the record for the most west ham appearances, but who sits second in the all-time list. Frank Lampard Snr. (1 point)
10. Thames Ironworks FC and West Ham United have played in Total 5224 games against all teams in their history, but how many have they won.  2001, 2021 or 2041…. A 2041 (1 point)
11. Name the five people in the photo below. Tony Gale, Phil Parkes, Alvin Martin, Terry Brown and his brother (5 points)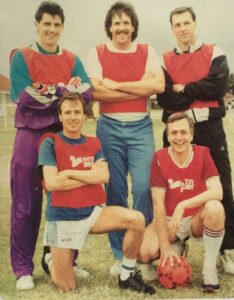 How did you do?