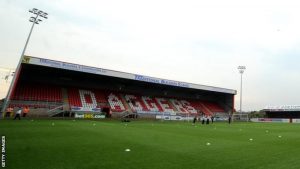 West Ham will play a friendly at Dagenham & Redbridge on Wednesday to help the financially troubled National League club. All proceeds from the match will go towards the Daggers.
"Our major benefactor has decided he is unable to fund the club going forward," managing director Stephen Thompson told BBC Radio London last month. "We have a deficit of £250,000 to £300,000 which we need to plug between now and the end of June."
He added: "A game against a strong West Ham XI will go a long way towards that."
Glyn Hopkin resigned as a director of Dagenham & Redbridge 2017 Ltd, the east London club's parent company, earlier this month and stated he would no longer be funding the Daggers.
"We are doing everything we can and a number of players have been released or sold on to other National League clubs and we have reduced the wage bill," Thompson added. "At the moment, we can't guarantee we can pay the staff until June, when contracts are finished. We are looking for a new major investor."
"As soon as we heard Dagenham were in need of financial assistance, [manager] David Moyes and I didn't hesitate to offer our help by sending down a team for a fundraising friendly," West Ham joint-chairman David Sullivan told the club website.
"We've always enjoyed a close relationship with the Daggers and are looking forward to this match."
West Ham have sold over 1,000 tickets with over 1,000 tickets remaining for as little £10
The game at the Chigwell Construction Stadium will take place on Wednesday at 7:30 GMT.