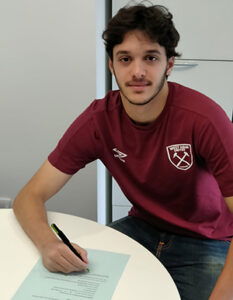 The Premier League has published retained lists for all clubs today which reveal which players have been retained and which have been released.
Missing is Carlos Sanchez and Pablo Zabaleta who have both been released.
Three scholars have been released including Jake Giddings, Sebastien Nebyla and Samuel Nsumbu.
A number of players have been given new contracts or made offers including Bernardo Rosa, Daniel Chesters, Keenan Appiah-Forson, Harrison Ashby, William Greenidge, Daniel Jinadu, Joshua Okotcha and Veron Parkes.  Lennon Peak extended his deal.
West Ham Contracts
Adarkwa, Sean Jordan
Afolayan, Oladapo Joshua
Ajeti, Albian
Akinola, Olatunji Oluwasehun
Alese, Ajibola
Anang, Joseph Tetteh
Antonio, Michail Gregory
Balbuena Gonzalez, Fabian Cornelio
Bowen, Jarrod
Costa Da Rosa, Bernardo (Offer)
Coventry, Conor James
Cresswell, Aaron William
Cullen, Joshua Jon
Diallo, Amadou
Diangana, Grady George
Diop, Issa Laye Lucas Jean
Dju, Mesaque Geremias
Fabianski, Lukasz
Fornals Malla, Pablo
Fredericks, Ryan
Haller, Sebastien Romain Teddy
Hegyi, Krisztian
Holland, Nathan Elliot
Hugill, Jordan Thomas
Jimenez Gago, Roberto
Johnson, Benjamin Anthony
Kemp, Daniel
Lanzini, Manuel
Lewis, Alfie
Longelo Mbule, Emmanuel
Martin, David Edward
Masuaku Kawela, Fuka-Arthur
Nascimento Da Costa E Silva, Alexandre
Noble, Mark James
Odubeko, Ademipo Ibrahim
Ogbonna, Obinze Angelo
Pereira Gomes, Felipe Anderson
Randolph, Darren
Reid, Winston Wiremu
Rice, Declan
Snodgrass, Robert
Soares Cardoso, Goncalo Bento
Trott, Nathan Wallace Newman
Wilshere, Jack Andrew
Yarmolenko, Andrii
West Ham Scholars
Adebayo, Iyiola El-Ameen
Adu, Michael Asare
Appiah-Forson, Keenan (Offer)
Ashby, Harrison (Offer)
Caiger, Samuel Alfie (Offer)
Chesters, Daniel Peter (Offer)
Corbett, Kai Michael James
Fevrier, Jayden Raymond
Giddings, Jake Patrick Moy (Released)
Greenidge, William Winston (Offer)
Heal, Benjamin Atticus William
Jinadu, Daniel Oluwagbolade (Offer)
Kileba, Gael Mulamba
Nebyla, Sebastian (Released)
Ngakia, Jeremy (Offer)
Nsumbu, Samuel (Released)
Okotcha, Joshua (Offer)
Parkes, Veron Brandon (Offer)
Peake, Lennon (Extended)
Roach, Joshua Michael Phillip
Sanneh, Serine
Swyer, Kamarai Joshua
Thomas, Brandon Val
Veliky, Christian