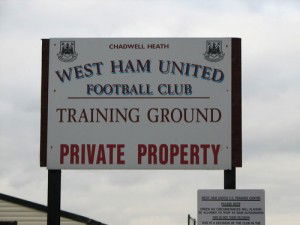 The West Ham first team have been training back at Chadwell Heath and have been there all week.  Back in December Slaven Bilic announced he was moving to Rush Green with immediate effect because of the 'rock hard' pitches.
"There have been a lot of things said since I came here about the pitches that we have here at Chadwell Heath, and they're not ideal," Bilic said. "With Reid's injury, for example, they are slippery on the top but rock hard underneath, and it is a bad combination."
"We were planning to move next season, at the start, to Rush Green because of the quality of the pitches. I decided on Monday next week, we will go. We can't continue to risk this much on these kind of pitches."
"The pitches are better there than here. We can live without the great dressing room, the kitchens and the free area for now. I don't see any other reason because we have a good medical team and good players and the sessions are good, and I told you that since I came here it was an issue – last year, two years ago or five years ago. It has nothing to do with the groundsmen or the medical staff – it's just the way the ground is here."
Less than one month later the first team hastened move to Rush Green they have quietly returned to Chadwell Heath. With hindsight, it appears they do miss the better facilities at Chadwell Heath and Rush Green facilities were just far too basic.
Planning permission has now been granted to transform Rush Green into a state of the art Premier League grade training facility and it hoped that work will be complete before next season.