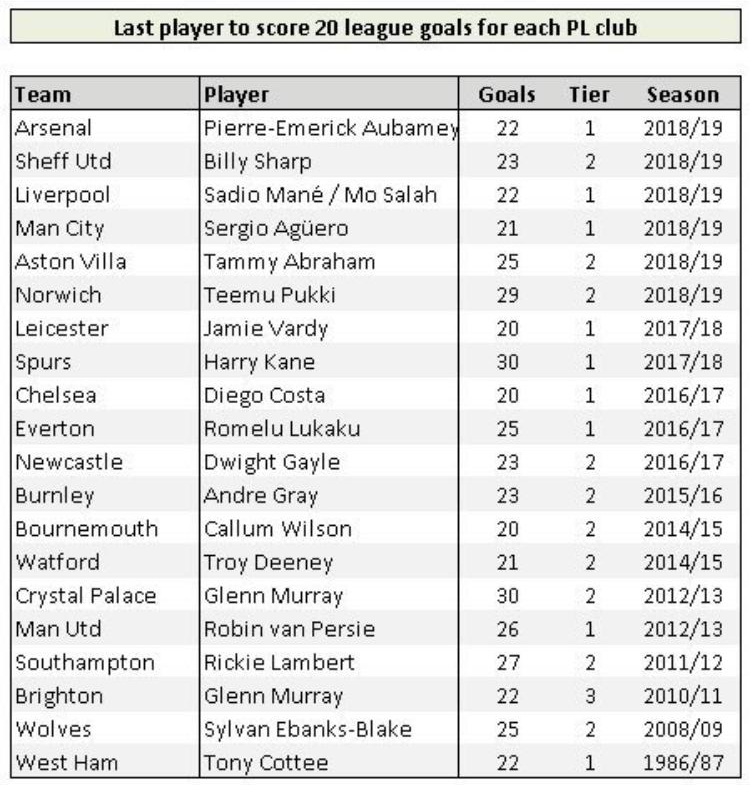 West Ham are the only Premier League team to not have a league top scorer in excess of twenty goals this century.
Tony Cottee was the last man to score twenty-two league goals in the 1986/87 seasons some 22 years ago.
The table includes several seasons in the Championship.
As a reminder, these are West Ham top scorers in the league for the past 22 years.
2018/2018 Marko Arnautoivic (10) 2017/2018 Marko Arnauotvic (11) 2016/2017 Michail Antonio (9) 2015/2016 Dimi Payet and Andy Carroll both on (9) 2014/2015 Diafra Sakho (10) 2013/2014 Kevin Nolan (7) 2012/2013 Kevin Nolan (13) 2011/2012 Carlton Cole (12) 2010/2011 Demba Ba (7) 2009/2010 Carlton Cole (10) 2008/2009 Carlton Cole (10) 2007/2008 Dean Aston (8) 2006/2007 Bobby Zamora (11) 2005/2006 Marlon Harewood (14) 2004/2005 Teddy Sherringham (20) 2003/2004 Marlon Harewood (13) 2002/2003 Paolo DiCanio (9) 2001/2002 Freddy Kanoute (11) 2000/2001 Freddy Kanoute (11) 1999/2000 Paolo DiCanio (16)  1998/1999 Ian Wright (9) 1997/1998 John Hartson (15) 1996/1997 Paul Kitson (8) 1995/1996 Julian Dicks (8) 1994/1995 Tony Cottee (13) 1993/1994 Trevor Morley (13) 1992/1993 Trevor Morley (20) 1991/1992 Mike Small (13) 1990/1991 Trevor Morley (12) 1989/1990 Jimmy Quinn (13) 1988/1989 Leroy Rosenior (7) 1987/1988 Tony Cottee (13)  1986/1987 Tony Cottee (22)