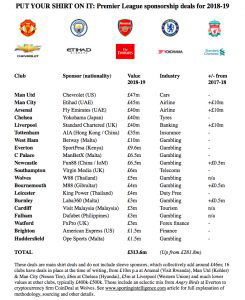 Premier League clubs have broken their own record for combined shirt sponsorship deals, with the 20 clubs generating £313.6 million for the 2018-19 season, a rise of £31.8m on last year Sportingintelligence.com has revealed. This is 'only' for the main sponsors on the fronts of the shirts. Sleeve sponsors are paying a further £46m to the 20 clubs combined.
Manchester United's club-record deal worth £47m a year with Chevrolet remains the biggest deal in the Premier League but Manchester City's deal with Etihad has climbed to £45m per year via another 'step increase' in their contract, meaning they now have the second biggest deal.  Liverpool's renegotiated deal with Standard Chartered has grown to £40m-a-year, while Arsenal's deal with Fly Emirates has leapt £10m, also to £40m per year. Chelsea's deal with Yokohama (tyres) is also worth £40m a year.
Spurs are set to move into the new White Hart Lane stadium in London soon – with attractive football and consistent top three finishes in the league, the club continues to prove attractive to sponsors. The club's deal with AIA is worth £35m a year, completing the big six's deals, which are head and shoulders above the Premier League's remaining 14 teams, in terms of value.
West Ham's deal with Betway is the seventh largest in the league worth £10m a year. In 2016  the Hammer has signed a new three-year principal sponsor deal with Betway worth £30m which extended the betting company's partnership through to end of the 2019/20 season.