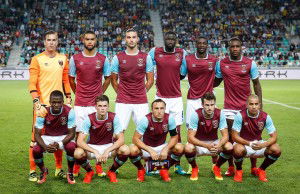 West Ham were forced to play without a sponsor name on their shirt last night as they lost to Domzale in the Europa League first leg and many supporters commented how better the shirt looked and they much preferred it.
Early speculation suggested that UEFA bans gambling sponsorship on shirts in European competitions but this is not the case and we wore Betway branded shirts in last season's Europa League games.  The real reason was the Slovenia government bans foreign online gambling sites in their country so the logo could not be shown. Rival betting company Bet365 grabbed the opportunity by sponsoring the UK coverage on BT Sport much to the annoyance of West Ham's primary sponsor.
The Betway shirt logo will be back next Thursday at the former Olympic Stadium for the second leg of the Europa league. Gambling logos have been banned from children's replica shirts since 2007 and there is a greater call to restrict gambling companies hold on Premier League sponsorship of  teams in the future.
Names were also missing from the back of shirts last night but eagle eyed supporters would have noticed the same thing happened in the Europa League last year and the simple explanation is that official squad numbers have not been allocated as yet. Names will be added once squad numbers are confirmed.