Guest post by Jon Darch from the Safe Standing Roadshow
The views expressed in this blog are those of the blogger and are not necessarily shared by ClaretandHugh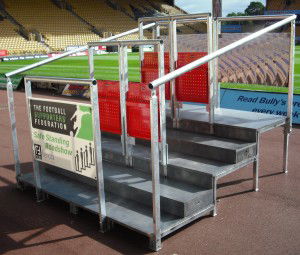 As the operator of the Safe Standing Roadshow, I have been delighted over recent years by the numerous declarations of support for safe standing made by David Gold.
However, I've been less delighted by the failure of West Ham as a club to do likewise. Now is the time to put that right. Now is the time for West Ham formally to declare its support for safe standing.
David Gold, David Sullivan and Karren Brady were all hoping, I'm sure, that the club's move to the Olympic Stadium would be hailed a resounding success.
While I have seen plenty of positive feedback from fans about their experiences there, some of the highest profile feedback has, been negative and that has been down to the lack of provision made at the new ground for fans who prefer to stand.
While at the Boleyn Ground everyone knew where standing was tolerated and where to go if you wanted to sit for the full 90 minutes, at the new stadium no such traditions have yet evolved and no tacit hints as to where standing might be tolerated were given by the club prior to the move.
As a result, standing fans are mixed in with those who like to sit and nobody is happy: some having their view blocked, others upset by being asked to sit down.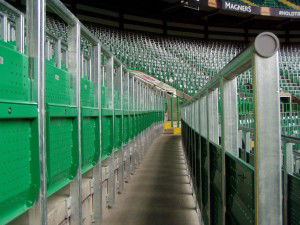 This isn't how it was supposed to be!
Many fans might think: well, why didn't the club plan ahead and create safe standing areas from the outset? Unfortunately, the rules and regs don't make it quite as simple as that, as the two Davids mentioned last week:
They said: "We understand the traditions of football and that many supporters like to stand, but the reality is that the license is for all-seating." And as things currently stand (excuse the pun), the club had no way of obtaining any other sort of licence. For now, the ground has to be all-seater.
So, how could the current unhappy situation be resolved to everyone's satisfaction?
In my view, there are two main things that could be done, both to achieve a short-term solution and to work towards a long-term goal:
Short-term solution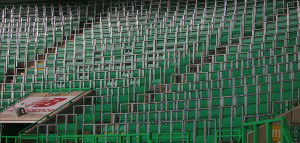 The club should announce its intention to operate a seat relocation scheme as soon as the logistics of doing so can be worked out.
On the basis that everyone essentially bought their season ticket without knowing who would be seated around them, it would be an example of good 'customer care' to now offer fans who have found themselves in a part of the ground where they'd rather not be an opportunity to relocate to an area where they'd feel more at home.
Although many of us hate the term, the creation of a 'singing section' should also be considered. The club could make it known that it expects supporters in that section to be particularly vibrant, perhaps to wave flags and even to stand regularly during moments of excitement (as is permitted by the terms of the stadium licence).
It could also, as Cardiff City did when they moved from Ninian Park to their new ground, make it clear that in all other areas of the stadium the club would take a zero tolerance approach to persistent standing.
Long-term goal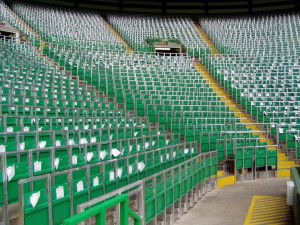 The club should declare its formal support for the introduction of safe standing in England & Wales, like that introduced this summer at Celtic.
This is the ideal way for the club to show to its loyal fans, many of whom, as David Gold and David Sullivan acknowledge, prefer to stand, that it takes their wishes seriously and is doing all in its power to persuade the authorities to amend the relevant regulations as soon as possible and to allow clubs like West Ham to provide standing fans with purpose-built safe standing areas.
Anything less might be mistaken by fans as a sign that their wishes are being ignored and that the club has no desire to have standing fans at the new stadium under any circumstances. I am sure that they will want to dispel any such impression.
Only a formal declaration of club support for the future introduction of safe standing areas will make it clear where West Ham truly stands. In the meantime, it might also encourage fans who prefer to stand to be more understanding of the club's current position.
Jon Darch
www.safestandingroadshow.co.uk