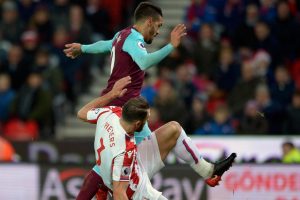 The Football Association have charged  Manuel Lanzini with "deceiving a match official" in West Ham's 3-0 win at Stoke on Saturday. The Argentine midfielder faces a two-match ban if he either does not appeal or if that is rejected.
An FA statement confirmed Lanzini's charge "follows the awarding of an 18th-minute penalty against Stoke City in their Premier League game with the Hammers on Saturday 16 December. He has until 6pm on Tuesday 19 December to respond."
Should West Ham choose to appeal Lanzini would be available to play in the EFL Cup quarter-final against Arsenal on Tuesday night but in turn may face the prospect of missing two league games against Newcastle and Bournemouth.
An insider says the club are currently undecided whether to appeal the two-match ban or not.