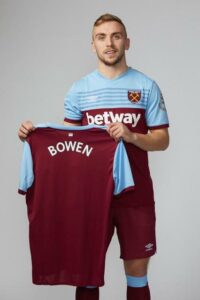 West Ham has confirmed their squad to Premier League with three new additions.
Jarrod Bowen, Tomas Soucez and Xand Silva are added to the squad while Roberto loan to Alaves.
The Hammers have a full squad of 25 compared to the reduced squad of 23 Pellegrini started the season with.
Players under 21 like Declan Rice do not need to be named in the squad submitted to the Premier League as any player under the age of 21 registered to West Ham can play in the first team.
Confirmed squad (* Home Grown player)
Ajeti, Albian
Antonio, Michail Gregory*
Balbuena Gonzalez, Fabian Cornelio
Bowen, Jarrod*
Cresswell, Aaron*
Diop, Issa Laye Lucas Jean
Fabianski, Lukasz
Fornals Malla, Pablo
Fredericks, Ryan*
Haller, Sebastien Romain Teddy
Lanzini, ManuelMartin, David Edward*
Masuaku Kawela, Fuka-Arthur
Nascimento Da Costa E Silva, Alexandre
Noble, Mark James*
Ogbonna, Obinze Angelo
Pereira Gomes, Felipe Anderson
Randolph, Darren*
Reid, Winston Wiremu
Sanchez Moreno, Carlos Alberto
Snodgrass, Robert
Soucek, Tomas
Wilshere, Jack Andrew*
Yarmolenko, Andrii
Zabaleta Girod, Pablo Javier