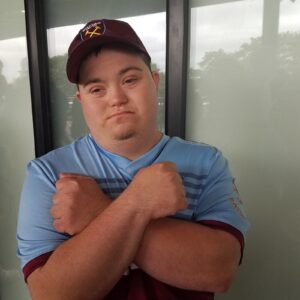 Claret and Hugh have learned that West Ham super fan Ben Smith has passed away in hospital after a brave fight to the end.
Ben found fame in July this year when he was surprised with a West Ham cabin in his garden to allow him to have more independence.
Coverage of his Hammers cabin surprise touched the hearts of many West Ham fans and off the back of that the club arranged for him and his family to be VIP guests at the West Ham v Norwich game at the London Stadium.
Speaking to his sister Sunny tonight she told Claret and Hugh: "Ben did go to a game. West Ham vs Norwich. He was so super spoilt. Treated like an absolute VIP the whole day. He went two days before he went into hospital, where he stayed till the end. There are no words to explain how grateful we are and what amazing people you all are at West Ham"
His sister reached out again on social media this week for a request for West Ham shirts for the pallbearers for his funeral and West Ham have stepped in again only to happy to help.
Rest in peace Ben, our thoughts are with your friends and family at this sad time.
A GoFund me to raise money to help with funeral costs and a memorial can be found HERE