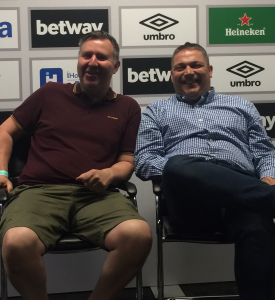 West Ham United's Supporter Advisory Board (SAB) had their end of season meeting at London Stadium last Wednesday evening.
The meeting was chaired by Executive Director of Marketing and Communications Tara Warren. Also present on the main panel representing West Ham United were Director of Operations Steve Gotkine, Head of Ticketing Nicola Keye, Disability Access Officer Julie Pidgeon, Head of Concessions Nick Kendall and Supporter Services Manager Jake Heath, while LS185 Head of Commercial Michael Temple was also present to answer questions.
The meeting included nineteen season ticket holders including Claret and Hugh Associate Editor, Sean Whetstone who was there as a representative of the West Stand lower and friend of the site Nigel Kahn who was there representing WHUISA.
During the two-hour meeting, a range of subjects were discussed including; accessibility and the successful launch of the Disabled Supporters Advisory Board, stewarding and matchday operations, stadium security, ticketing, routes to and from London Stadium and public transport links.
The full minutes of the meeting can be found at http://www.whufc.com/sites/default/files/inline-files/SAB%20minutes%20240517_0.pdf
The meeting follows the first West Ham United's Disabled Supporter Advisory Board (DSAB) chaired by West Ham Vice Chairman Karren Brady on 19th April last month.
The full minutes of the April DSAB meeting can be found at http://www.whufc.com/sites/default/files/inline-files/DSAB%20minutes%20190417.pdf