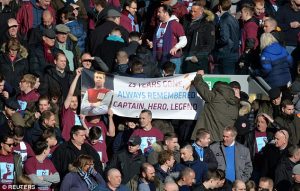 Normal service at Anfield has been resumed as Liverpool were far too strong coming out 4-1 victors to jump up to a deserved second place in the Premier League table.  West Ham were unlucky to be one nil down at half-time with some doubt over the corner that led to their only goal in the first half from an Emre Can header.
Arnautovic was also unlucky not to put the Hammers one nil up before Liverpool's first-half goal hitting the crossbar inches away from a West Ham opener.
However, the floodgates opened in the second half after Salah made it 2-0 to the hosts with an instinctive, low finish after a pass by Alex Oxlade-Chamberlain, before Roberto Firmino added the third after a mistake by goalkeeper Adrian.
Impact sub Michail Antonio scored a quality, low finish goal seconds after coming on which gave West Ham hope but Mane, who had hit the post moments before, completed a 4-1 Liverpool win to finish David Moyes misery.
The Hammers move down to 13th position on 30 points in the Premier League table on goal difference. Swansea and West Brom lost while fellow strugglers Newcastle, Southampton and Stoke could only manage draws limiting their point gain to one.
The only positive thing to say is West Ham are likely to be first in the running order for BBC Match of the day so you won't have too long to wait for the TV highlights or should that be low lights.
Anyway, nothing to see here, bad day in the office and all that, onwards and upwards to Wales to face a poor form Swansea next week.