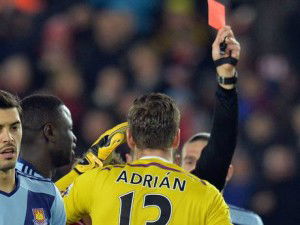 Sam Allardyce has confirmed West Ham would appeal 'immediately' against the red card awarded against Adrian, their goalkeeper, during the goalless draw at St Mary's last night.
Allardyce said he would be 'very disappointed' if the appeal is not granted.
"It was a foul on the goalkeeper before he handled the ball, Mane has his hands all over Adrian," said Allardyce.
"He should have kicked it out but Mane had two hands on his back. We will appeal. I will be very disappointed if we don't get it rescinded."
Adrian faces a one match ban for the FA Cup game this Saturday at the Hawthorns.