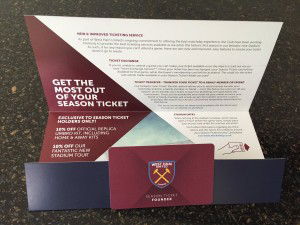 Newham Council Safety Advisory Board members have discussed the London Stadium option of photo cards, level numbers on season tickets, potential colour-codes card for different quadrants for ease and speed of seat location by stewards.
They noted that other football clubs are also looking into photo cards.
In the official minutes from April, West Ham say they will consider the options and also suggested Biometrics, ticketing on mobile devices, making forwarding tickets easier and smart ticketing.
They said they need to evaluate evidence and understand what would be needed to implement such a procedure.
John Newcombe from Newham Council repeated at the April meeting that there was a massive problem with transfer of tickets as some season ticket holders, who attend all home games, have acknowledged  they never seem to sit next to the same person. This highlights the issue of not knowing who is in the stadium and must be addressed.
Stadium Operators LS185 are looking at longer-term solutions and have spoken to a number of companies that provide CCTV with facial recognition.