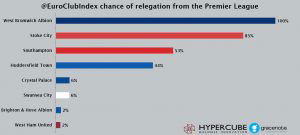 Website Euro club index say there is a 57% chance of staying up in the Premier League with 35 points with a 43% chance of going down while 37 points gives clubs a 81% chance of staying up and only 19% chance of relegation.
Euro Club index says the Premier League relegation battle is now down to 8 clubs West Brom statistically relegated (less than 0.005% of survival) Stoke also close to joining West Brom Third place currently between Southampton and Huddersfield Town.  West Ham have been given just a 2% of being relegated this season.
Euro Club index predict the Hammers will score six more points taking West Ham to a total of 40 points for the season which they say will mean finishing in 13th spot above Brighton.
More info at https://www.euroclubindex.com/league-odds/