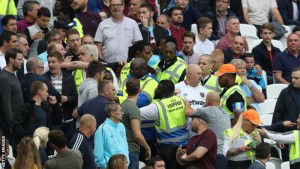 The all powerful London Stadium Safety Advisory Group (LS-SAG) meets today to discuss safety and capacity limits for the London Stadium.
This time last month the LS-SAG, chaired by Newham enforcement officer, Sheila Roberts recommended that capacity be restricted to 57,000 over concerns over persistent standing, away fan segregation and supporters drinking alcohol in view of the pitch.
The 57,000 capacity limit for the 66,000 seater stadium was set for the first two Premier League matches of Bournemouth and Watford and today the group will decide whether to keep that capacity in place or possibly reduce it further.
West Ham want to increase capacity to the promised 60,000 in the near future but no-one sees the LS-SAG agreeing to that request today.
Stadium operators, London Stadium 185 and West Ham United will give the closed meeting an account of the troubles on Saturday against Watford.
The LSSAG contains a number of stakeholders including Newham Council, London Legacy Development Corporation, Metropolitan Police, Transport Police, TFL, London Fire Brigade,  London Ambulance Service, Westfield Shopping Centre, Stadium operators, London Stadium 185 as well as representatives from West Ham United.