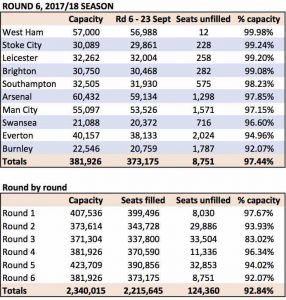 West Ham top the table for the percentage of tickets sold for their home games this season. The club reported an official attendance of 56,988 for the West Ham v Spurs London derby last weekend meaning just 12 tickets went unsold which equates to an impressive 99.98% fill rate.
Overall last weekend saw an average 97.44% stadium capacity at Premier League grounds, the second best of the season to date after opening day.
Four teams reported more than 99% of the stadium full including the Hammers and all teams were over 92% full. There were just 8,751 unsold tickets across all Premier league grounds.
The figures and table are published on  www.insideworldfootball.com
Unfortunately, tickets sold does not equate to seats occupied. Several thousand West Ham season ticket holders who had valid tickets left their seats empty for the category A game at the weekend.  All tickets put on ticket exchange before 11am on Saturday were sold but several hundred tickets put on Ticket Exchange after 11am did not sell.