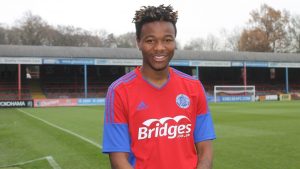 West Ham is said to be tracking the availability of London-born Kundai Benyu who plays as a central midfielder for Ipswich.
The 19-year-old has played for the Ipswich u21s and u18s side and spent last season on loan at Aldershot.
He played 22 games for Aldershot scored 5 goals and 2 assists. He has been heavily featured and for the most part has played for the majority of each game. He has shown he certainly knows where the goal is.
The player recently admitted he had an attitude problem at Ipswich by revealing: "It's my fault really. I had an attitude problem last season which put the gaffer off using me but I've apologised now and we're on good terms again so it's all good now.
"I'm out of contract at the end of the season but hopefully, at some point in the season I'll be able to renew here for another couple of years.Speaking to the gaffer about it is on my to-do list but hopefully if I keep playing well and get into the first-team again then it will persuade him to offer me something. That's the aim, anyway."
His exploits at Aldershot last season have bought admirers which include Spurs, Aston Villa, Celtic and West Ham all of which believe he may have major potential.