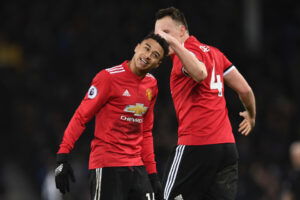 A report in the Independent that David Moyes is considering moves for  Manchester United duo Phil Jones and Jesse Lingard, if West Ham stay in the Premier League have been denied by club insiders.
27-year-old Lingard 28-year-old Jones isn't the kind of players Moyes is looking for we have been told.
Another report by Tribal Football suggested that West Ham were in talks with former Chelsea player John Obi Mikel, after his contract was terminated with Trabzonspor earlier this season. Again we have been told there is no interest in the 33-year-old.
Moyes has continuously hinted he will look to develop the club's youngsters after being left 'excited' by the youth model implemented by Red Bull-owned clubs Salzburg and Leipzig.
Moyes says The Red Bull model excites him previously saying 'If you look at how RB Salzburg, RB Leipzig have done, you would probably say yeah I can see that. The way they've used younger players, tried to develop it. There's a lot to look at.'  
With a limited budget possibly funded by sales Moyes will most likely look to lower English and foreign leagues to land young players with plenty of potential.