.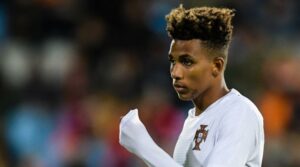 Benfica midfielder Gedson Fernandes reportedly completed a medical at Spurs on Monday before he seals a 18-month loan to the rival Premier League club.
Fernandes had been targeted by West Ham but Benfica rejected two loan bids from West Ham instead deciding to deal with Jose Mourinho and Spurs.
Despite reports from Sky Sports to contrary West Ham never reached agreement and many believe West Ham were played by agents who always had Spurs in mind.
The 21-year-old looks like he will become Mourinho's first signing as Spurs manager thanks to his mate super agent Jorge Mendes.
"I am waiting for news," Mourinho said on Monday. "I don't want to talk about a Benfica player."
It is understood Spurs will have an option to buy Fernandes when his loan deal with the Premier League club expires in 2021. The exact details of West Ham's loan offer or financials are unknown but it is understood that money was not the primary driver in his and his agent's decision to move to chose our North London rivals.