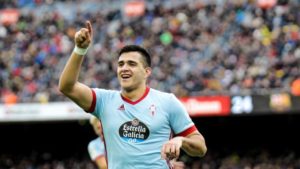 West Ham have this evening triggered Maxi Gomez's release clause by submitting a bid of €50,000,000 (£44.8m) to Celta Vigo.
The formal bid is likely to stall Gomez's proposed transfer to Valencia again as West Ham do everything in their power to get Manuel Pellegrini's number one striker target. Reports out of Spain earlier this evening suggested that Valencia was threatening to withdraw their offer unless Gomez's agent Jonathan Barnet signed off on their deal.
Later the story changed with another Valencian media outlet saying that Gomez had a 75% likelihood of signing for Valencia and his agents had accepted that he wished to stay in La Liga.
The lodging of a massive £44.8m bid is a new club record but the next 24 hours will tell us whether it was all in vain.
We are lead to believe through the Spanish media that Gomez wants to stay in Spain and money isn't his main motivation but the player himself has kept a dignified silence on the subject.