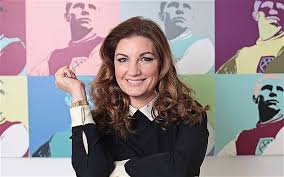 Karen Brady has revealed that West Ham made a profit in their last financial year for the second year running.
Lady Brady was asked on twitter by Andrew Yule "When did West Ham last turn a profit?"
Brady replied "Last Year actually. Quite unusual for a football club I know… even for ones like us with a £120m turnover."
West Ham last published  financial accounts up to May 2014 revealed a turnover of £114.9m and a profit of £10m. Brady's latest social media comments appear to suggest that turnover has increased by £5m to £120m in the year ending May 2015 and West Ham have continued to make a profit for the second year running.
Unfortunately the financial accounts will not be published until January next year so we will probably have to wait until then to find out the details. West Ham are unlikely to make a profit in this current financial year with reports suggesting the Hammers went £17m into the Red to afford out summer transfer spree ahead of our last season in the Boleyn Ground.
Speaking a West Ham financial insider this morning Claret and Hugh were told:
"We will lose between £7m and £20m (this financial year), projected middle figure is £13m-but there are many variables. The last two years we made money. I think approx £3m last year (to May 2015) although the accounts are not finalized yet and £10m (profit) the year before"