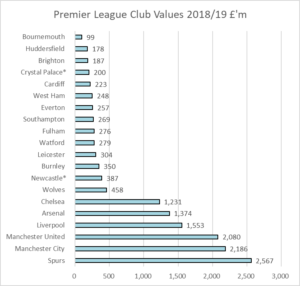 West Ham's valuation has dropped by £73m to £248m claims football finance expert Kieran Maguire from the Price of Football    That relegates West Ham down to the 15th most valuable club within the Premier League.
Spurs overtook both Manchester clubs at the top of the table on the back of reaching the Champions League final, a fourth-place finish in the Premier League and a wage bill barely half that of Manchester United.
Wolves, acquired for £45 million by owners Fosun in 2016/17 is now worth more than ten times that amount.
Many clubs have fallen in value due to relatively flat revenues as broadcasting revenues are in the final year of a three-year cycle.
The figures do not take into account the impact of the global health crises which, based on falls in share prices for those clubs who are quoted on stock exchanges, would reduce values presently by 25-35% so West Ham's valuation could drop by another £87m to just £161m if another 35% was wiped off.
The University of Liverpool's annual Premier League club valuation report uses valuation method is broadly based on the Markham Multivariate Model created by Dr Tom Markham, who presently is a senior executive for Sports Interactive, creators of Football Manager.
For West Ham the report says:
15: West Ham £248 million (12th: £321 million)
West Ham is another club who most fans would expect to be valued higher than the £248 million produced by the model. CEO Karren Brady values the club at £800 million.
West Ham certainly have the potential to be higher in the valuation table, but their financial performance has held them back. Playing at the London Stadium should in theory result in substantial matchday income, but this has risen only modestly since the move from the Boleyn Ground. This is partially due to season ticket prices being relatively cheap compared to some of the other Premier League clubs in London.
The full report can be read at http://priceoffootball.com/2728-2/