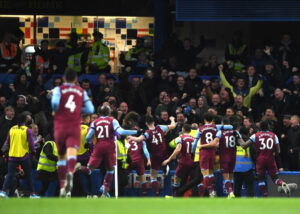 West Ham away supporters for homophobic chants at Stamford Bridge of 'Chelsea are rent boys, everywhere they go' were heard clearly throughout the stadium.
Kick It Out have urged all supporters who attended the game, that if they heard any homophobic chants, to report them immediately.
They have also called for action previously following chants towards the Chelsea fans, after they issued a statement when Chelsea were subject to homophobic chanting against Liverpool last April.
"We are absolutely clear: the 'rent boy' chant is homophobic and must be treated as such."
"The 'rent boy' chants have been directed at Chelsea for years, with little action taken by The FA or police – and that must not continue.
"We expect stronger condemnation and appropriate sanctions. just as we would for any other form of discrimination."
Chelsea had previously urged supporters ahead of the London derby to remain respectful and to not use any discriminatory language such as 'Pikies' in their chanting.
West Ham's LGBT supporter association the Pride of Irons has since said "Having spoken to Chelsea Pride to get the details of yesterday's homophobic chanting, we understand that West Ham fans were chanting "Chelsea Rent Boys". Whether you think this is homophobic or not, Kick it out have made it clear that it is. When you use homophobic chants you aren't abusing most Chelsea fans who will be straight, but all gay fans whether they support Chelsea or West Ham. We're better than that and can come up with much smarter chants that don't abuse our own fans. We shouldn't be the club appearing in the news for homophobia, there are other clubs who have ingrained problems. Let's not join their ranks. Be better. Be West Ham. Support the whole West Ham Family, no matter race, gender, sexuality or anything else. COYI"
West Ham fans away at Chelsea today.

"Chelsea are Rent boys everywhere they go" 😂🙌🏻 #WHUFC #CFC pic.twitter.com/l3o4CAw67E

— Awaydaylimbs (@limbschants) November 30, 2019