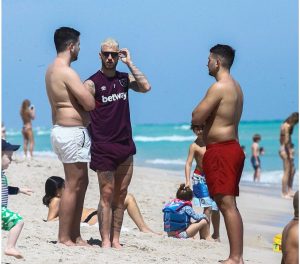 They say a picture paints a thousand words so it is unfortunate to see images of West Ham players sunning themselves on Miami beach in the tabloid laughing and rubbing sun cream into each other as they sun themselves. The timing is awful from a PR perspective after an awful week in the media in what they hoped would be a low profile visit stateside. The players have not splashed their warm-weather training trip over the normal social media channels but perhaps it was a disaster waiting to happen.
They are staying at the luxury Fontainebleau Miami beach hotel right on the seafront and training at Barry University on Miami Shores.
Speaking to one of the West Ham camp in Florida earlier today I was told the squad arrived in Miami on Sunday evening. On Monday morning they did a long run followed by an intense spinning session followed by a lengthy training session on Monday afternoon. Tuesday morning was another training session in the heat again but were given a few hours off on Tuesday afternoon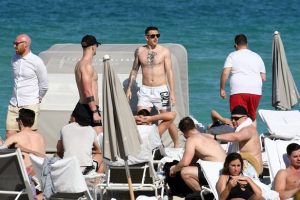 which is when the beach photos were taken. There was another training on Wednesday and they have another training session on Thursday.
Perhaps it was misguided to appear on a public Miami beach but did we expect them to hide away in a darkened hotel room with towels over their heads in shame. On hindsight, a trip to Miami after the Saturday defeat and protest was a bad idea but it was already arranged. Personally, I don't care what they do in their allocated downtime as long as they come back with the right mindsets to beat Southampton.
To be fair it did make me chuckle that while many of the players were showing off their six packs and abs to the beautiful girls on the beach Arnautovic insisted on wearing his West Ham top. A true Hammer through and through is Arnie!
Ginge was another player reluctant to take off his top to work on his tan.
Working hard to put things right. pic.twitter.com/sillaaBsLT

— West Ham United (@WestHamUtd) March 14, 2018