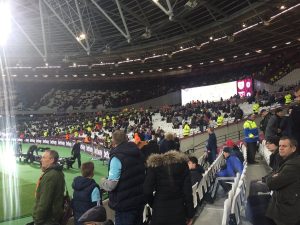 West Ham Under 23's will play three upcoming games at the London Stadium over the next eight weeks.
The West Ham academy will take on Fulham youngsters in the Premier League 2 fixture on Monday 20th February followed by another Development team match against Stoke City on Tuesday 7th March.
They will also play Middlesbrough's youth team on Monday 10th April.
It is a requirement of the membership of the newly formed Premier League 2 that three games are played at the primary home stadium.
West Ham have the provision to play up to two youth games per annum as part of their £2.5m annual rent although the Hammers will need to pay the Stadium operators their operating costs for the night.
West Ham sit in fifth place in Division two of PL2. They have won 7 out of 17 games, drawing 4 and losing 6 this season. They have accumulated 25 points, scored 24 goals and conceded 22 goals this season.
Please note that tickets for the Fulham match must be booked in advance – even for Season Ticket Holders, who can gain free admittance – due to a limit on capacity.
Supporters will be housed in the Betway Lower Stand for this match.
Ticket prices
Season Ticket Holders Free (must be booked in advance during the Season Ticket window)
Adults £5
Concessions (over-65s and under-21s) £3
Sales dates
Season Ticket Holders & Bondholders 9am, Tuesday 7 February
Claret Members 9am, Friday 10 February
General Sale 9am, Tuesday 14 February
This is an all-ticket match. Season Ticket cards and Membership cards will not be active.