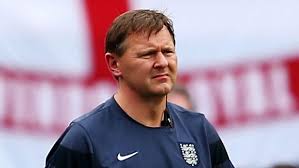 As the fans create the regular summer clamour for signings, the best one may have already arrived.
It was very hard not to be impressed with the wise words from new medical head Gary Lewin who with so much experience at club and international level looks to be exactly the right man in the right place at the right time.
A quick check on Wikipedia reveals that he became an expert on hamstring injuries following his experiences with Tony Adams  and advised Birmingham City's physios on the treatment of overseeing often-injured midfielder David Dunn.
It's likely that it was here he became well known to the Davids and now several years later arrives at West Ham at the expense of former chief medic Stijn Vandenbrouck, the architect of many communiques on the fitness of Andy Carroll and Diafra Sakho whilst overseeing a dressing room which often resembled  scene from 'Casualty.'
The row rumbling behind the scenes for half of last season concerned Slaven Bilic's backroom team and the requirement for change – Vandenbrouck was the guy who has took the fall.
Enter Lewin who in his first interview on the official website  explained in forthright style: "Over the last few years it has become common for teams to travel around the world for pre-season tours and matches that have a commercial element to them and so, from my point of view, it was fantastic to come here and see that we are going to Austria and Germany for purely fitness and football."
He added: "For the last two summers, the Club have had early competitive football in the Europa League, and that can be tough.
It's not so much the early start, but more the unknown aspect of it when you are planning – who are we playing, where are we travelling. That can make it difficult to plan individual programmes for players who may be at different levels of fitness and conditioning.
This year we can set in stone what we are doing, and have a preconceived plan all the way through to August 12. We can all be on the same page, with the same levels of fitness and, hopefully, have everyone relatively injury-free and ready to go."
In three words: He's nailed it!
Last summer was a disaster with a pointless tour of America which was did nothing much in terms of income or raising the club's profile, followed by a disastrous European campaign – if that's what we can call it!
We looked unfit from the start and it wasn't long before the injuries emerged. With Lewin having given such an accurate assessments of the problems and his brilliant record I'm more than hopeful the injury issues will be much better looked after and avoided this time around.
Welcome Gary and COYI