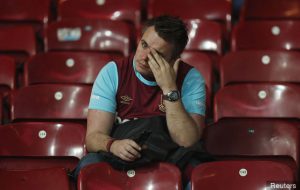 A report by the BBC claims West Ham have a 29% chance of relegation
The Hammers sit in 16th position on 27 points after 29 games with nine games yet to play.
Their goal difference is -15 with 0.93 points per match and 0,80 points per match in the last ten games
The BBC article says While West Ham have put in encouraging displays in recent defeats at Liverpool and Arsenal, manager David Moyes will be hoping that performances translate into points sooner rather than later. Only Bournemouth have taken fewer points in their past 10 matches and a repeat of that form in the last 10 games is unlikely to be enough for them to survive.
At an average of  just 0.8 points per game, it suggests West Ham will earn just another 7 points taking them 34 points overall
The good news for Hammers fans is that the BBC prediction five other clubs have a greater chance of relegation when play resumes behind closed doors.
Norwich City – 90% chance of relegation
Aston Villa – 62% chance of relegation
Bournemouth – 50% chance of relegation
Watford – 36% chance of relegation
Brighton – 31% chance of relegation