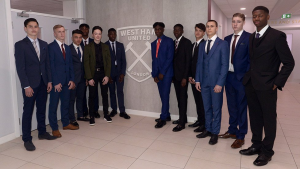 West Ham has awarded 2-year scholarships to twelve of its brightest young talents. At a special induction evening at Rush Green on Wednesday, the new scholars posed for photographs with Academy Director Terry Westley and their families, as well as getting down to the business of signing their new deals.
Attendants then enjoyed a three-course meal before listening to a talk from Westley, who outlined what the youngsters will be expecting over the course of the next two seasons. Among the players to sign new deals were U18 regulars Reece Hannam, Jeremy Ngakia and Bernardo Rosa, Serbian star Kristijan Belic and England U16s captain Ajibola Alese.
The scholarships will begin at the start of next season, with the youngsters all set to feature for Steve Potts and Mark Phillips' U18 side in the 2017/18 campaign.
Players awarded two-year scholarships:
Sean Adarkwa, Ajibola Alese, Kristijan Belic, Kevin Dalipi, Reece Hannam, Emmanuel Longelo, Ethan Miller, Jade Mingi, Jeremy Ngakia, Bernardo Rosa, Odisseas Spyridis and  Louie Watson