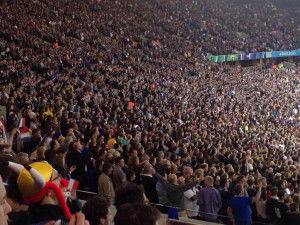 West Ham remains quietly committed to one day increasing the football capacity at the London Stadium to 66,000 surpassing Arsenal's Emirates at 60,000 and Spurs new stadium at 62,000. Chelsea have temporarily shelved plans to increase rebuild the bridge from 41,600 to 60,000.
The Hammers want to have the biggest capacity of any London Premier League club.
The Hammers go to court next month in an attempt to increase the football capacity from 57,000 to 60,000. The increase of 3,000 seats requires no extra infrastructure such as toilets or catering and would require a minimum increase in stewarding numbers which should be funded by extra catering revenue.
The increase from 60,000 to 66,000 is estimated to cost around £10m in extra infrastructure facilities such as toilets and kiosks but that would be a small price to pay to achieve maximum capacity of the London Stadium and filling every existing seat.
There are those who will argue that many are already missing from the stadium each Premier League game but that is their personal choice despite selling out all 57,000 tickets.  West Ham believes there is still demand for season tickets and increasing the capacity will help improve the atmosphere as well as bringing extra catering and sponsorship revenue to the stadium owners.