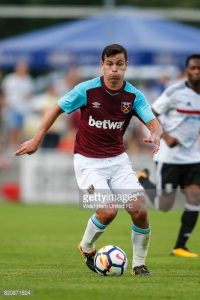 To explain that Terry Westley is a proud man right now is perhaps putting things a tad modestly – the man is over the moon at the progress being made by the youngsters under his charge towards the first team squad .
And Terry – a regular visitor to ClaretandHugh – has now spoken, this time to the official site, of his feelings as he sees the club again becoming a real academy of football again.
He said: "I think it's a proud moment for everybody at the Club. One of the reasons I came here initially was because West Ham United is known for its home-grown players and since Mark Noble, Jack Collison and James Tomkins, there has been a gap.
"Before that, the work being done was outstanding and to get that amount of players through the system was fantastic, but that was a different era and it's very challenging now with other clubs wanting to take your players and the sums of money we're now talking about.
"So, to actually have a game where you have three Academy products on the pitch at the end in a Premier League game and the manager trusting them is massive.
We have the captain, who has obviously been here a long time and also helps looks after the young ones and is an ambassador, and Declan Rice, who is not yet established in the team but the manager trusts that he can do a job and he put him into high-profile, tense situations against Southampton and Chelsea.
"Then, with ten minutes to go, to say to Josh Cullen 'Go on, tidy things up in the middle of the pitch and help us wrap things up' is a great endorsement of everybody here at the Academy.
"Maybe it's coming back? That's what is leaving a smile on my face. Maybe we're getting back to something that this Club ought to be and underneath that, to be able to get the type of results we've got in the last two games at Under-23 level against Manchester City and Everton was fantastic.
"We shouldn't be able to compete with Manchester City at youth level, because of the vast sums they've got, and we had three Under-18s on the pitch that night. Then, to go to Everton and win 4-0, again with three different Under-18s on the pitch, really gives me some hope for next season and the years to follow."