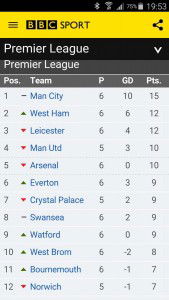 This time last year West Ham were sitting in second place briefly in the Premier League on an impressive twelve points after six games above eventual champions Leicester City on goal difference. We had beaten Arsenal, Manchester City and Liverpool away for the first time in decades. We had beaten Newcastle at home while keeping a clean sheet despite losing to Bournemouth and Leicester City in our early home games at our last season at the Boleyn Ground.
Last season at the six game point, we had a goal difference of plus six after scoring 13 goals and conceding just seven, four of them on one game against Bournemouth.
This season is a complete reverse scoring seven goals but conceded 13 leaving us on a goal difference of minus six. Today is West Ham's sixth game of the Premier League season, a win today could take us as high as 14th leap-frogging opponents Southampton who sit on five points after five games conceding six goals but scoring just four.
There is no need for panic just yet, it is not a cup final as the board has suggested and it is not a 'save our season' match that the owners like to call them but we do need to kick start our season soon to start gaining some momentum.