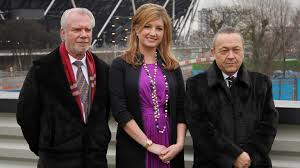 There appears to be a growing movement suggesting the board should quit.
The 'board out' slogans are being prepared but want does that actually mean and what do they hope to gain?
David Sullivan and David Gold are directors of the holding company W H Holding Limited but they are also 85% shareholders.
While it is possible for them to resign their positions as directors they would remain owners and  would ultimately appoint a chairman and directors to oversee their wishes.
West Ham co-owner David Gold has little day to day involvement in the running of the football beyond his board meeting and turning up at events and games as the figurehead.
David Sullivan rarely ventures out of his private office at his Essex mansion and restricts his involvement to the defacto director of football dealing with agents and transfers.
As recently confirmed by David Gold in an interview there have been no serious offers for West Ham since the pair took over in 2010 and there are no buyers queuing up to take the club off their hands.
They would probably want at least £800m for the club valuing their share holding around £688m plus they would want their £50m loans paid back with interest.
Gold has often said be careful what you wish for and change of ownership is no guarantee of better management, ask Birmingham, Leeds United or QPR fans!
Instead just wanting the board out, it might be a more valid worthwhile campaign for supporters to lobby for something that is actually achievable.
Maybe the appointment of a director of football to take over transfer business going forward or ask for a change of leadership in the day to day operations by replacing the current Vice Chairman.