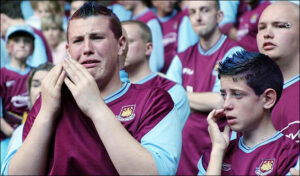 West Ham would end up in serious financial trouble if they are relegated from the Premier League this season.
The Hammers enjoyed a record turnover of £189m last season but that would significantly fall by up to half if they dropped down the Championship next season.
The biggest drop would come in TV income, West Ham earned £122.5m from TV money last season but the Championship TV money is tiny in comparison.
The Hammers would receive a parachute payment of £48m in their first year outside the top flight with Sky paying between £100,000 and £140,000 for home Championship matches televised, as well as £10,000 for away matches.
With ten home games and ten away games broadcast as a best-case scenario, this is likely to bring in just £1.5m more in revenue with a further £2m in a basic award payment that all clubs receive.
When West Ham were last relegated in 2011 matchday ticket revenue the following season fell by 30% and commercial revenue fell by 25% while retail income remained the same.
If a similar fall was seen that would mean a £8.5m annual drop in ticket sales and a £6.5m drop in commercial revenue like corporate hospitality and sponsorship.
With a massive wage bill of around £110m players would have to be sold if they didn't already have a relegation clause in their contracts.
This would mean players like Declan Rice, Felipe Anderson, Issa Diop, Seb Haller and Pablo Fornals would be most likely to sold.
Although West Ham's London Stadium rent would drop from the basic £2.5m to £1.25m it would pale into insignificance to the estimated 50% drop in revenue.
The owners would have no choice but to inject tens of millions of cash as they did in 2011 or borrow money from elsewhere.