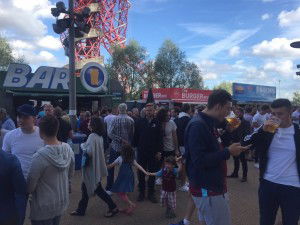 Many have been quick to point out various teething problems with the London Stadium and the new ticketing system but today we want to highlight something the Stadium operators and club have got right in our new home.
At the first two games many fans complained about over crowding in the concourse areas at half time and the difficulty in purchasing a drink within the 15 minute window.The London Stadium also has a strict no smoking policy which includes the use of electronic cigarettes or vaping as it is commonly used. The mens toilets at the Boleyn Ground used to be a fog of smoke at half time and there was a real risk the behaviour would be replicated at the London Stadium if not catered for.
Well we are glad to report that common sense has prevailed and the stadium operators have listened to feedback as yesterday supporters were allowed outside the stadium to ease congestion, fans were permitted and encouraged to use the outside bars and food outlets and importantly allow those who feel the need to smoke or vape had the ability to do so outside.
ClaretandHugh reader, Scott Smallman was one of the fans to take advantage of this new option and sent us this picture at half time commenting "brilliant idea to open this area up at HT for people that smoke and reduce queues within the ground"