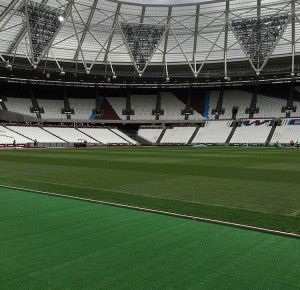 Professional cameras with lens greater than 3 inches, Ipads, Tablets, Laptops, Camcorders, Large banners, Flags with poles, Beach balls, Frisbees, Large back packs and any suit case are just some of the items banned at West Ham's new home.
Stadium operators London Stadium 185 Limited has published a long list of what is and isn't allowed in the stadium. While much is common sense, Others will surprise you.
But you can bring along blankets, small binoculars, thermos flasks and seat cushions.
London Stadium Permitted and Prohibited Items
All supporters and their belongings are subject to search by London Stadium staff.
The following ARE PERMITTED in the stadium during London Stadium Events:
Bags: London Stadium only accepts small carry bags and hand bags. There is no luggage room. Bags may be subject to security searches as determined by us in our reasonable discretion, including on entry and exit. All approved bags are subject to inspection upon entry and are subject to additional inspections within the stadium.
Blankets
Cameras with 3-inch lenses or shorter (no lights, tripods, selfie-sticks or monopods) *
Flags (No Poles) up to 1sqm
Food and fruit for personal consumption
Plastic bottles (sealed) and thermoses (no alcohol)
Seat cushions
Strollers
Small Umbrellas
* Cameras and Binoculars — Small cameras and binoculars will be allowed. No spectator cameras with lenses more than three inches (3″) long will be permitted. Camcorders will be prohibited. Binocular cases and camera bags are not permitted
The following ARE PROHIBITED in the stadium:
Any article that might be used as a weapon and/or compromise public safety will be refused entry to the Ground

Cans or Bottles
Glass vessels
Knives and Blades
Laser pointers
Pointed-tip umbrellas
Poles thicker than a "pencil" (0.5cm)
Smoke Canisters
Weapons and Ammunitions

Any article that might be used as a weapon, be deemed to be offensive or abusive, or compromise public safety, will be confiscated and or reported to the police.
We reserve the right to prohibit within London Stadium:
items which are or may be illegal. Anyone found in possession of illegal or contraband goods may also be liable for prosecution;
any item which in our reasonable opinion, may cause disruption to any Event or to other visitors (regardless of whether or not such item is illegal or is carried for specific purposes):

Aerosol cans
Audio video recording devices
Balls (E.g. footballs)
Beach balls or Projectiles
Cameras with external flash or interchangeable lenses (no professional photography)
Drones
Fireworks / Flares / Explosives
Flashlights / Optical illusions
Frisbees
Laptop / Tablets are not permitted in seating bowl
Large suitcases
Oversized bags or backpacks larger than 18″ x 14″ x 10″
Pets (service animals exempt)
Signs / Flags / Banners larger than 11″ x 17″ and any affixed pole
Signs or items with corporate or inappropriate branding
Skateboards / Rollerblades
Selfie sticks
Tripods/ Monopods
Unauthorised fliers
Unlicensed musical instruments: trumpets, drums and other devices capable of causing a disturbance or nuisance