Former Premier League referee Dermot Gallagher insists Vlad Coufal should not have been sent off against Arsenal in midweek.
The Czech Republic international was handed a yellow card earlier in the game for an apparent flailing arm that made contact with Gunners left-back Kieran Tierney.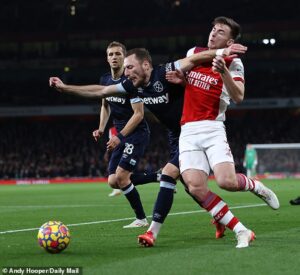 The second yellow, though, came about in far more controversial circumstances as he slid in to win the ball from Alexandre Lacazette in the penalty area.
Replays showed that he did win the ball but Anthony Taylor, the referee, pointed to the penalty spot and VAR did not overturn the decision.
And that raises the question about where the Hammers may stand in the penalty stakes going into the enforced COVID break.
The Irons would have played Norwich on Saturday but that game has been suspended due to a rise in cases, and it's worth noting that the majority of the club's Premier League rivals have been given dodgy penalties recently, instead of the Hammers!
Chelsea won a penalty late on against Leeds, Manchester City beat Wolves with a controversial spot-kick and Manchester United did the same against Norwich.
Must be nice for them!
Quite simply, it does look a bit odd, and we have to hope that it changes soon.