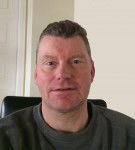 This is the first in our series of "Why I am a Hammer"
Lifelong fan Nick Gilbert of growing up by Chadwell Heath and of a giant among men called 'Mooro' – the man he wanted to be.
Send your stories to claretandhugh@gmail.com
Why am I a Hammer?
That's easy.  I was born in Forest Gate and grew up by the Chadwell Heath training ground.  How could I see anything but claret and blue.  I can't tell you much about my first game but I remember the atmosphere and the players.
I was only about 6 and I sat with my Grandad in the East Stand above the Chicken Run amongst the season ticket holders.  Moore, Peters and Hurst were national heroes after their World Cup triumph but as a kid I was awestruck by Bobby.  I wanted to be him.  His distinctive blonde hair made him stand out from the crowd but he also had a presence on the pitch which just commanded respect and oozed class.
To me he looked like a giant amongst men.  This experience was repeated several times over those early years but he is the memory that lives on.
I started going regularly when I was in senior school and my mates and I used to pay £1.80 to stand behind the goal in the South Bank.  I remember standing on the terrace there one day and they were announcing the teams.  Suddenly over the loudspeaker the announcer read "Alan Devonshire".  I remember everyone (myself included) saying "Who the bloody hell is that? Probably another load of bloody rubbish!". 
Little did I know I was about to watch my favourite West Ham player for the first time.   I remember the excitement of Phil Parkes' first game between the sticks (he was a massive signing back then) and I remember the night when we played Cambridge United and a crowd of about 12,000 spontaneously danced to Mike Oldfield's In Dulce Jubilo  to stay warm. 
I was a season ticket holder in the East Stand by then and used to go to a lot of away games, my most memorable being a mid-week visit to White Hart Lane when David Cross put four past Spurs.  What a night.
However, my most memorable game was in 1976 against Eintracht Frankfurt in the second leg of the ECWC semi final.  2-1 down in the first leg we came back to win 3-1 in the second leg and go through.  I was standing with my Dad in the West Stand and the atmosphere was electric.
It was jam packed and I  remember balloons floating around as we swayed back and forth in the crowd.  The noise was deafening and the game was everything I associate with those days.  Under the lights and in the mud with Sir Trevor having a blinder.  Unforgettable.
I was a season ticket holder from about 1979 to 1999 during which time I married an American and had 2 boys.  In the end we had 4 seats together in the West stand, right on the half way line.  I saw it as my duty to pass on the West Ham tradition to the next generation as my Grandad did for me.  One week the kids and I got to go into the changing room and meet the lads before the game.  A bloke I'd met on holiday was a mate of Harry's and he set it up.  We had pictures with Rio, Ian Wright, young Frank, Margas, Trevor Sinclair and my favorite player at the time Eyal Berkovic.  I've always liked players who made something out of nothing.
In 1999 I made the hard decision of moving to the United States and left behind my beloved West Ham.  Nowadays I am able to see every game live so I really feel involved again but it was rough for a few years.  My kids are grown up now but still mad West Ham supporters and we still go to games when any of us are back home.  I may not live there anymore but my heart is still there and the memories live on.  COYI.