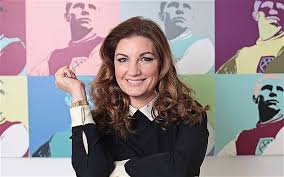 Last Saturday Hammer Vice Chairman Karren Brady  backed proposals to take Premier League games abroad.
In her Sun diary Brady revealed that discussions have taken place about what she said was a "six-season period" in which "each club would play a maximum of three 'home games' abroad".
She said: "I have to say I do like the idea of the recent proposal to play a full round of Premier League games at international venues across the world. However, she added quickly: "But there is clearly some work to be done, particularly around the emotiveness of our own supporters and how this would affect them.Plus the impact of ticket prices – season-ticket holders would get one less game. The proposal is that across any six-season period each club would play a maximum of three 'home games' abroad."
Whether we like it not the Premier League is one of the biggest global brands and our owners have ambition to take our  West Ham United brand further globally. I personally support this idea on the condition the extra revenue we made from playing matches abroad would be made available to make football more affordable at home. The scheme has worked very well for the American Football NFL with regular sold out games played at Wembley stadium.  We are moving into an era where clubs earn most of their revenue from domestic and overseas TV rights, the next deal which will auctioned in six months time could see the bottom Premier League receive £100m compared to £60m now and was just £40m two years ago. Hopefully with global expansion of the West Ham brand  comes some responsibility to reduce some season tickets to a more affordable level. A limited number of £100 season tickets in the Olympic Stadium have even been rumoured matching a German model.