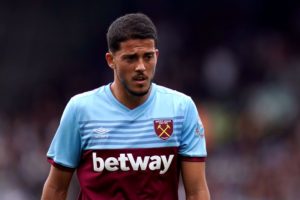 Pablo Fornals has still to make his big impact at West ham although we have no doubt it will do and hopefully soon.
In a previous blog I pointed out that at the same age – 22 – Issa Diop made an immediate impression and hasn't stopped improving.
Some took me to task for expecting too much too soon from the Spaniard although I made it clear I trusted Pellegrini and had no worries about the midfielder making  a long term impact.
ClaretandHugh follower Good Old Daze made some very pertinent comments on the website, however, and we are pleased to use them here in the form of a blog!
By CandH follower Good Old Daze
I suggest the difference between the impacts made by Diop and Fornals is more  do with the talent available in their respective positions.
Diop and Balbuena came in at a time when our lack of centre back options was acute. The fact that they quickly established themselves as the first choice centre half pairing was no real surprise.
On the other hand, Fornals has come into a squad blessed with several other attacking midfielders. It could be that he was seen as a possible replacement for Lanzini in case the Argentinian never got back to his previous form.
Luckily for us, Lanzini has returned to approaching his best, but it was never certain. If Manuel Pellegrni  wants two players for each position, then Fornals is the 'reserve Lanzini'.
I'm happy with that – he looks a good prospect for us. Personally, I would have rather we had invested in a defensively-minded midfielder in the summer rather than another creative, but Fornals is here and I look forward to MP bringing him into the Premership at the right pace.
It's a big step for a young man to move countries and leagues and that fact that Diop fitted in so well from the start doesn't mean that Fornals won't come good when we need him – which we surely will.
I share the optimism in his futurebut quite where it leaves Wilshire is another question entirely!
COYI.
Very good stuff and that puts Southon in his place!