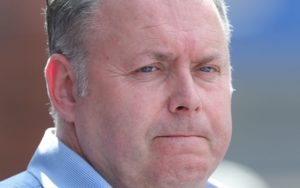 Club insiders have denied that veteran former agent Willie Mckay is involved in West Ham's attempt to sign Sebastien Haller.
The claim that McKay was involved in pesuading Haller to come to West Ham was made by French newspaper L'Equipe
However, a bemused insider laughed at the suggestion saying "I don't know where they got that from, William is not part of any attempt involving the player in question" 
McKay who was once closely connected to the Hammers has had his own challenges in recent times
The agent was made bankrupt in 2015 and is no longer a licensed agent with his son Mark and wife Janis running his former agency business.
He was discharged from bankruptcy last August, agreeing to a five-year restriction order prohibiting him from being a director or managing a company, without permission from a court.
He is due to appear at Manchester Magistrates Court on 31 July having been charged with two counts of fraudulent transfer of property. If found guilty, McKay faces up to two years in prison.
The Scotsman was issued with a harassment warning earlier this year after being accused of making threats to Cardiff chairman Mehmet Dalman, chief executive Ken Choo, player-liaison officer Callum Davies and one other man.
He became embroiled in the Emiliano Sala tragedy after he was revealed he booked the doomed flight to Cardiff.