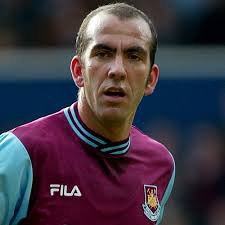 Jack Wilshere – through no fault of his own – has not made many friends  among the fans since his arrival two summers back.
Injury and lack of form has seen his appearances restricted to 14 in the Premier League but he is hoping to show himself off in the vital last part of the season.
Ahead of that, however,  he has clearly courted a few supporters when declaring that it was the one and only Paolo Di Canio who had him fall in love with football in the first place.
A club  post on their official Twitter account asked fans to share which former player made them fall in love with football and included images of three former Hammers players and one current one – Mark Noble.
Wilshere immediately made his apologies to his current fellow midfielder explaining that the Italian was the man who had influenced him most of all.
Wilshere then proceeded to reply to the post and state that his choice was Paolo Di Canio before stating 'sorry skip' (per Jack Wilshere).
A photo of the legendary Italian forward had been included in the original tweet by the London club.