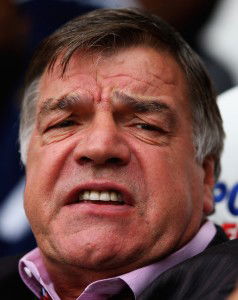 My God it diodn't take long for the "woe is me I have injuries and it's a crisis " Allardyce head to go on – about 10 minutes after the match actually
In my match report I wrote: "With players hobbling off through injury these are worrying times as we start to descend towards our usual level  – what's even more worrying perhaps is  that if they keep players out for a couple of games it presents a handy excuse to the boss for any sub-standard performance." 
It actually took a couple of minutes rather than games. For as he stood looking folorn and lost in front of the nation he whined: "Ginge had to come off with a hamstring, then we lost Reidy. It's not a problem it's a crisis."
Yeah Yeah Yeah as Liverpool legends The Beatles sung when we last won in their home city back in 1963!
Carroll of course had hobbled off allowing Sam the opportunity to bleat: "That's three on top of the four we left behind" which of course would include Kouyate and Sakho who is now being kept in cotton wool as the Senegal complaint goes to FIFA.
He claimed the "medical staff will have all hands to the pumps this week"  as Manchester United await but as I wrote earlier I'm not wearing this injury stuff being presented as as an excuse.
We were beaten today before a ball was kicked and to say anything different would be a lie! Stand up and be a man Sam.
You have Koutaye who can do a shift at the back and as we are now more or less safe what about blooding Reece Oxford?
Big people see times of trial as times of opportunity so please stop moaning and groaning and show some balls!