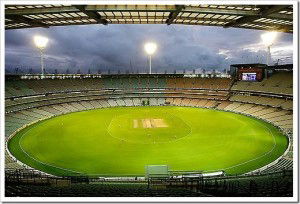 The London Stadium appears to be moving closer to hosting two matches over a weekend in the 2019 Cricket World Cup but only if the seats can be moved in time or West Ham agree to request a final away fixture of that season.
The organisers of the World Cup would like the London Stadium to host one day-night match on a Friday, and then a day game on a Sunday. Should the plans be ratified, England and India seem certain to play a game each. The probable fixtures would be England playing Australia, perhaps on the Friday under floodlights, and India playing Pakistan.
Given the capacity for cricket is likely to be 60,000, the crowd for the India-Pakistan match would be the highest for a game between the two countries outside the subcontinent.
With the Cricket World Cup due to open on 29th May 2019 the timing of the fixtures could be tight without asking West Ham to request the FA and Premier League for special dispensation to play their last game of the season away from home.