Andriy Yarmolenko has made a huge £75,000 donation to the Ukrainian armed forces, according to a new report.
Zorya Londonsk posts Ukrainian football news in English on Twitter and has claimed that the Hammers star has made a big donation to the war effort against Russia.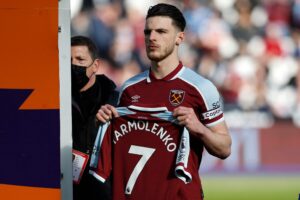 Vladimir Putin's forces have invaded their neighbouring country and heavy fighting is currently ongoing in a number of cities in the country.
But Yarmolenko has donated a big chunk of cash to the effort to repel the invaders and attempt to keep Ukraine safe.
Yarmo, of course, is the captain of his country at international level and has won 106 caps, scoring 44 goals.
He has been given time off from club duties and, as a result, missed the win over Wolves at the weekend.
Declan Rice carried Yarmo's shirt onto the pitch and there wwas immense applause as a message of solidarity was shown on the big screen at the London Stadium.