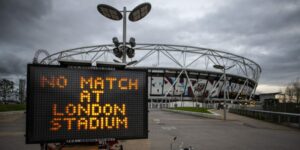 The pressure is intensifying on professional footballers and their union to accept wage cuts or deferrals to help the game negotiate safe financial passage through the coronavirus crisis.
A poll commissioned by YouGov found 92 per cent of respondents felt top-flight players should take a wage cut to reflect the loss of revenue created by the Covid-19 outbreak, with more than two-thirds of those questioned saying the bar should be set at least 50 per cent.
Many Premier League stars earn in excess of £100,000 per week, but have not yet been asked to take pay cuts or deferrals, while the non-playing staff members at clubs like Spurs earning less than £500 per week are being furloughed and taking home 20 per cent less themselves.
The YouGov Sport research reveals that the majority (92 per cent) of British people think top-flight players should be prepared to take a pay cut. 2,154 British adults were surveyed on March 31.
Two-thirds (67 per cent) of British people who think players should reduce their pay believe that any cut should represent 50 per cent or more of footballers' salaries.
In addition, nine per cent of those polled believe that Premier League players should be prepared to accept a 100 per cent reduction in salary for the duration of the Covid-19 outbreak.