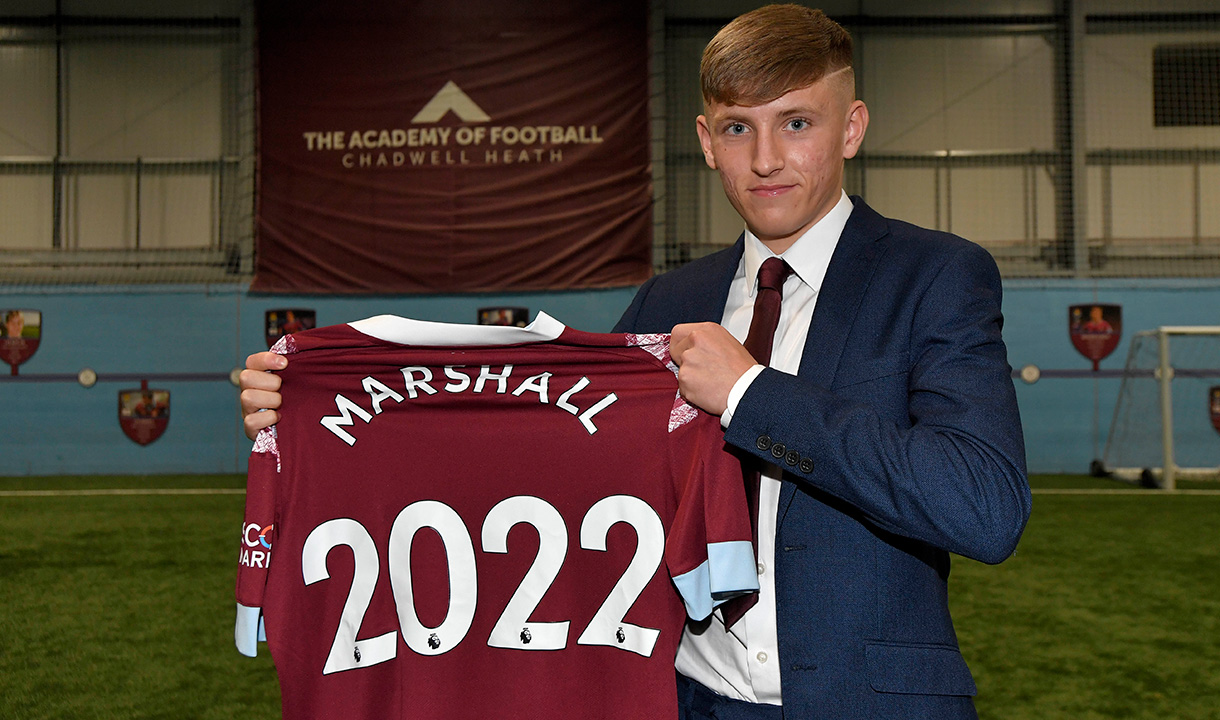 Academy forward Callum Marshall has signed professional terms with the Hammers.
The striker celebrated his 18th birthday on Monday 28 November and has been in highly impressive form throughout 2022 for the U18s and has earned him opportunity tp play in the development side this season.
The youngster has scored nine goals in just four outings in the U18s at the start of the season, featuring eight times in all competitions for the U21s and scoring his first Premier League 2 goal away to Blackburn Rovers last month.
Penning his first professional contract continues a stellar 12 months for Marshall, who joined West Ham on Scholarship terms from NIFL Premiership side Linfield in January.
"My 2022 has been very enjoyable and has also had its peaks and troughs. I've just been trying to replicate my form from the U18s into the U21s, and it's been a hard step up. I'm on my way back from an injury too so, for me, it's about getting as much game time as I can with the U18s in the coming weeks, and hopefully do well. 
"Now it's time for me to push on. I need to keep my foot on the gas and keep going forward. I'm so happy to sign my first professional deal and now I want to try and get back into the U21s team after the World Cup."
Marshall penned his professional deal alongside interim Academy Manager Kenny Brown, incoming Sporting Director Mark Noble, and his parents, who made the trip over from Northern Ireland to celebrate with their son.
Claretandhugh says: With the academy costing around £10 million a year to run it's to be strongly hoped that Callum, and others like him, will be getting opportunities to push their way into the Premier League squad in the fullness of time. Thus far we have seen few getting their chance and hopefully that will soon change. Declan Rice and Ben Johnson are the first two to manage it on a permanent basis since the Mark Noble days although Grady Diangana looked set to make a name for himself before being transferred to West Brom where he has made 20 appearances for two goals. The manager and his staff have to be trusted to decide who of the kids is ready but it is a disappointment that so far the cupboard seems bare as far as rising PL prospects are concerned. Jp[efil;;y Callum will send the pendulem swinging in the opposite direction,