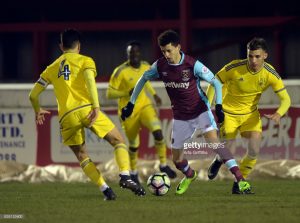 Nathan Holland saw his dream come true when he stepped out for his first team debut against Bolton on Tuesday evening.
The young wing star is being expected to make a big name for himself and this was the first step on a massive learning curve
He told the official site: "Since I joined the club in January I've been working hard to get to this moment. I made it onto the bench last year but didn't get a chance. Getting out there was amazing."
"As soon as I came on Nobes pulled me in and said, 'just do your thing.'
"I was a bit nervous to be honest. It was a big crowd, the biggest crowd I've ever played in front of. My early run with the ball and winning a corner helped settle me quite a lot. As soon as I got a touch on the ball it felt real.
"I felt really comfortable after that and I really enjoyed myself, and I want to do it more now."
And in v: "Gettery mature manner he added: Getting more minutes in the first team is my aspiration for this campaign. It's a big squad and you have to work hard to get your chance but I'm really happy with how I've done against Bolton.
"Now I just need to keep working hard with the U23s and then I'll hopefully get another chance again soon."
Read more at https://www.whufc.com/news/articles/2017/september/21-september/holland-west-ham-debut-was-dream-come-true#PLQs3qhcllIu2m2p.99