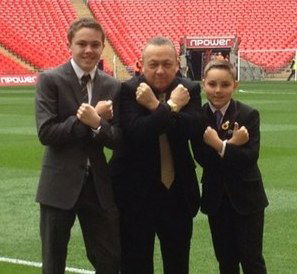 Young Jack Sullivan  (far right in our picture) begins to look very much like a chip off the old block!
Sullivan snr has very well known strong points of view and Jack appeared to have inherited the gene.
The young man has twice been pretty straightforward in his view of life at Upton Park.
He tweeted his displeasure when Marouane Chamakh arrived on loan last year and  was seemingly happy when waving farewell to midfielder Gary O'Neill.
Jack's twitter feed is carefully watched and his latest announcement on the proposed new club badge – which includes the word London –  has caused a few raised eyebrows.
Soon after the club's media department had unveiled the new crossed hammers proposition, Jack tweeted: "NO WEST HAM LONDON.'
He was immediately engaged by another twitter follower who said: "Tell your Dad" to which Jack responded "I have."